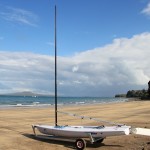 C spar produces an alternative range of carbon spars now available for laser sailing boats. These have been developed to give the club/recreational laser sailor an opportunity to upgrade to lighter, more responsive and long lasting spars at little more cost than the aluminium versions.

Light weight – easier rigging and capsize recovery. More responsive – better control of sail shape and better gust response.
Long lasting – carbon is a buy once option, the bend characteristics don't fatigue with use, there will be no need  to replace tired and bent spars.
                                                                                                                                                 Click on links below for more information
:                                                          
z